Stieg Larsson (1954-2004) was a Swedish writer and journalist.
Prior to his sudden death of a heart attack in November 2004 he finished three detective novels in his trilogy "The Millenium-series" which were published posthumously; "The Girl With The Dragon Tattoo", "The Girl Who Played With Fire" and "The Girl Who Kicked the Hornets' Nest". Altogether, his trilogy has sold more than 12 million copies worldwide (summer of 2009), and he was the second bestselling author in the world 2008.
Before his career as a writer, Stieg Larsson was mostly known for his struggle against racism and right-wing extremism. Starting in the late 1970's, he combined his work as a graphic designer with holding lectures on right-wing extremism for the Scotland Yard. During the following years he became an expert on the subject and has held many lectures as well as written many novels on the subject. In 1995, when 8 persons were killed by neo-Nazis I Sweden, he was the main force behind the founding of the Expo-foundation, a group intended on exposing neo-Nazi activity in Sweden. From 1999 and on, he was appointed chief editor of the magazine Expo.
During the last 15 years of his life, he and his life companion Eva Gabrielsson lived under constant threat from right-wing violence.
Biography
Background
Stieg's grandfather, an inspiring role model
Stieg Larsson was born in Västerbotten in northern Sweden in 1954. At the time of his birth, his parents were too young and too poor to keep him, so he was raised by his grandparents in a small village in the north of Sweden. Stieg's grandfather, Severin Boström, became the male role model for the young Stieg. Severin was strongly anti-fascist and during the Second World War he was imprisoned in the work camp in Storsien for his anti-Nazi opinions. Had he been Danish, he would no doubt have been placed in a German Concentration Camp. The fate of his grandfather deeply affected and shaped Stieg's character. He wanted to protect equal rights and fight for democracy and freedom of speech in order to prevent history, and what happened to his grand father, from repeating itself.
Youth, left-wing movement and far travels
When Stieg was nine years old, his grandfather died and he moved to live with his parents and his younger brother. Stieg was given a typewriter for his 12th birthday, and he spent most nights of his youth staying up writing, keeping his family awake with the drumming sound. At 18 years of age he met Eva Gabrielsson at an anti-Vietnam War meeting in Umeå. Eva was to become his life long companion. With some short exceptions, mainly due to the fact that Stieg was sometimes too obsessed with his work, they lived together until Stiegs death the 9th November 2004. After his military service, Stieg travelled in Africa and has been described as "an early backpacker". He rarely had enough money on his travels, in an interview with Norra Västerbotten in 2006, his father describes how he had to work as a dishwasher and sell his clothes to afford a ticket home from Algeria.
Stieg Larsson was also interested in Science Fiction. Among other things was he the chairman of the Scandinavian science fiction society and published two magazines.
A life under constant threat
During the last 15 years of his life, he and his life companion Eva Gabrielsson lived under constant threat from right-wing violence. When a labor-union leader was murdered in his home by neo-Nazis in 1999, the police discovered photos of and information about the couple in the murderer's apartment. So it was not without reason that the couple took precautionary measures. They were never seen together outside the house, they moved mirrors in the hall and they always kept the blinds down. Those are just a few examples. Stieg was an expert in the area, and wrote a book of instructions on how journalists should respond to threats for the Swedish Union of Journalists ("Överleva Deadline", 2000).
Writing as a relaxation
The situation created a contrast between Stieg's work at Expo and his night-time novel writing. He regarded his writing of detective novels as relaxing. Keeping track of loose ends, characters and made up conspiracies posedno problem since it was, after all, fiction and no one would threaten either Eva or himself because of it.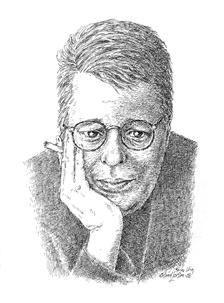 Activist and journalist
Larsson was initially a political activist for the Kommunistiska Arbetareförbundet (Communist Workers League), a photographer, and one of Sweden's leading science fiction fans. In politics he was the editor of the Swedish Trotskyist journal Fjärde internationalen. He also wrote regularly for the weekly Internationalen. As a science fiction fan, he was co-editor or editor of several fanzines, including Sfären, Fijagh! and others; in 1978-1979 he was president of the largest Swedish science fiction fan club, Skandinavisk Förening för Science Fiction (SFSF). He worked as a graphic designer at the largest Swedish news agency, Tidningarnas Telegrambyrå (TT) between 1977 and 1999.
Larsson's political convictions, as well as his journalistic experiences, led him to found the Swedish Expo Foundation, similar to the British Searchlight Foundation, established to "counteract the growth of the extreme right and the white power-culture in schools and among young people.He also became the editor of the foundation's magazine, Expo. Larsson quickly became instrumental in documenting and exposing Swedish extreme right and racist organizations; he was an influential debater and lecturer on the subject, reportedly living for years under death threats from his political enemies.
Death
Larsson died in Stockholm at the age of 50 of a massive heart attack. Rumours that his death was in some way suspicious, because of death threats received as editor of Expo, have been denied.
In May 2008 it was announced that Larsson's 1977 will, found soon after his death, declared his wish to leave his assets to the Umeå branch of the Communist Workers League (now the Socialist Party). As the will was unwitnessed, it was not valid under Swedish law, with the result that all of Larsson's estate, including future royalties from book sales, went to his father and brother.His long term partner Eva Gabrielsson,who found his will, has no legal right to the inheritance, sparking controversy and exposing what many media considered a flaw in Swedish inheritance legislation.They never married because Swedish Law required married couples to make their addresses publicly available; marrying would have been a security risk.Vanity Fair's recent article exposes the bad treatment of Eva by the author's father and brother (with whom he had little contact in his life). She is quoted as wanting the rights to control his work, so it could be presented in the way he would have wanted. She claims, as his life partner, to know better than his father whom he "disliked" and rarely saw.
The novelist
At his death, Larsson left the manuscripts of three completed but unpublished novels in a series. He wrote them for his own pleasure after returning home from his job in the evening, making no attempt to get them published until shortly before his death. The first of these novels was published in Sweden in 2005 as Män som hatar kvinnor ("Men who hate women"), published in English as The Girl with the Dragon Tattoo. It was awarded the prestigious Glass Key award as the best Nordic crime novel in 2005. His second novel, Flickan som lekte med elden (The Girl Who Played with Fire), received the Best Swedish Crime Novel Award in 2006. He also left the unfinished manuscript of the fourth novel, and synopses of the fifth and sixth in the series, which was intended to contain an eventual total of ten books.
The primary characters in the Millennium Trilogy series are Lisbeth Salander and Mikael Blomkvist. Lisbeth is an intelligent, eccentric woman in her 20s with a photographic memory whose social skills are rather poor. Blomkvist is an investigative journalist, a celebrity in his own right.
A television series based on the three completed books is in production by Yellow Bird Films of Ystad. Each book will be covered in two episodes (making a total of six 90-minute episodes). The first two episodes were released as a motion picture in February 2009, while the subsequent episodes were released directly on DVD in December 2009. The series will be broadcast on Swedish television in 2010.
Influences
Through his written works as well as to the press, Larsson openly admitted that a significant amount of his literary influences come in the form of American and British crime/detective fiction authors. In his work, he makes a habit of inserting the names of some of his favourites within the text – sometimes by making his characters read the books of his own influences. Topping the list are Sara Paretsky, Agatha Christie, Val McDermid, Dorothy Sayers and Enid Blyton. However, one of the strongest influences originates from his own country – Pippi Longstocking by Sweden's much-loved children's author, Astrid Lindgren. Larsson explained that one of his main recurring characters in the Millennium series, Lisbeth Salander, is actually based on Pippi Longstocking and in his books is reimagined as a grown up version of her.
Bibliography
Articles
Stieg Larsson, Anna-Lena Lodenius: "Extremhögern", Stockholm, 1991
Stieg Larsson, Mikael Ekman: "Sverigedemokraterna: den nationella rörelsen", Stockholm, 2001
Stieg Larsson, Cecilia Englund: "Debatten om hedersmord: feminism eller rasism", Stockholm, 2004
Richard Slätt, Maria Blomquist, Stieg Larsson, David Lagerlöf m.fl.: "Sverigedemokraterna från insidan", 2004
Novels
The Millennium series:
Periodicals edited
Svartvitt med Expo, 1999-2002
Expo, 2002-2004
Awards
2006 – Glass Key award, Män som hatar kvinnor
2008 – Glass Key award, Luftslottet som sprängdes
2008 – ITV3 Crime Thriller Award for International Author of the Year, UK, for The Girl with the Dragon Tattoo.
2008 – Exclusive Books Boeke Prize, South Africa, for The Girl with the Dragon Tattoo
2009 – Galaxy British Book Awards, Books Direct Crime Thriller of the Year, UK, for The Girl with the Dragon Tattoo
2009 – General Council of the Judiciary, Spain, for his contribution to the fight against domestic violence.
Courtesy: www.stieglarsson.com  , WIKIPAEDIA
Filed under: Author of the week, The Girl Who Kicked the Hornets' Nest, The Girl Who Played with Fire, The Girl with the Dragon Tattoo, www.stieglarsson.com